988 suicide and crisis hotline
This hotline is now available! The Substance Abuse and Mental Health Services Administration (SAMHSA) put together a page with information, resources and a toolkit.

Order Stroke Education Free Posters and Bookmarks by Aug 1
Stroke is the fifth leading cause of death in the United States.  For the best outcomes, people need to first recognize when a stroke might be occurring for themselves or anyone around them and then call 9-1-1 immediately when a stroke is suspected.  A stroke may be occurring with the sudden onset of Balance difficulties, Eyesight changes, Facial drooping, Arm weakness, Speech difficulties, Terrible headache.  
To enhance community awareness about the signs of a stroke (BEFAST) and the need to call 9-1-1 at the first symptom onset, the Wisconsin Coverdell Stroke Program (DHS) is working with public libraries to distribute bookmarks (in English and Spanish) and posters (in Hmong, Spanish, and English).  If your library is interested in having bookmarks and posters, please fill out this form by August 1.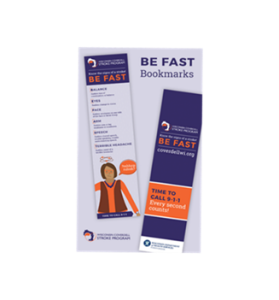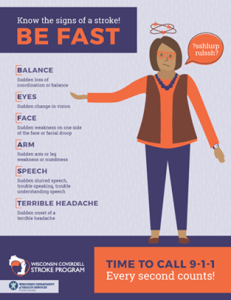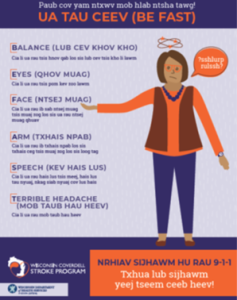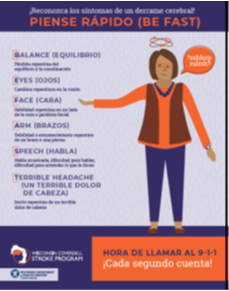 Overdrive follow-up from Cecilia
We had some questions about the specific timeline for the Overdrive sunset, and what that would mean for patrons that continue to use Overdrive. Cecilia reached out to our overdrive rep, and here's what they said:
"We will be turning off the app completely in 2023. Your OverDrive app users will have to switch to Libby by then, or they will no longer have access to your collection via our app. Here's our FAQ page, which might answer some additional questions that you have: https://resources.overdrive.com/libby-faqs/." 
So it sounds like users can still access the collection via the OverDrive app for now, but that will not be the case starting early next year. I realize this may not be the news your patrons want to hear.
Again, I'm here to help you if you need assistance in preparing your library and patrons for this change, there are quite a few resources available to help staff through the transition (see the link above or let me know what specific questions you have).
Coming Up
Library Director Check-In, Fri Aug 19th 10:00am – 11:00am: subject is Privacy
Wisconsin Homeschooling Parents Association 101–Library Edition, Thu Aug 18th 1:00pm – 2:30pm

Late summer is often a time when families are making decisions about the upcoming school year, particularly about homeschooling. Sometimes they turn to public libraries for information and resources to help them make this decision. To help us get ready, Rebecca Ahl from the Wisconsin Homeschooling Parents Association (WHPA) will provide us with an overview of homeschooling in Wisconsin, Wisconsin laws and resources, and information about the Wisconsin Homeschooling Parents Association. There will be ample time for questions and discussion. 
In the news
WEAU article about CVTC joining MORE
Tonight! Get ready for the literary polka event of the summer! Bring your friends, parents, and grandparents out for an old-fashioned Wisconsin party. At the historic Stone's Throw, Eau Claire Writer-in-Residence Ken Szymanski will celebrate the release of his new book, Sit Down and Stay Awhile: My Aunt Lil, a Small-Town Bar, and a Lifetime of Polkas. (Ken is IFLS staff Sarah Szymanski's husband! There's also an event at Volume One in Eau Claire on Saturday.)
Ballot drop-box rules have changed due to a Wisconsin Supreme Court decision. There are questions about how this new ruling could negatively impact access. The Wisconsin League of Municipalities has filed an amicus brief and issued a statement. (Shannon Schultz sent out an email last week. Questions can go to John Thompson.)
Have news you'd like to share with other libraries? Submit to Reb with Weekly Digest in the subject line by Wednesday each week.
In case you missed it
There's a video tour of the website on the For IFLS Libraries page.
You can send your Explore MORE Passport Program tally sheet, stamp and entry forms through courier to IFLS: attn Reb. Complete details are on the toolkit page. Have opinions? Any library worker can fill out this survey.
Please feel free to forward this digest to people at your library. It's also a blog! All of IFLS's most recent blog posts can be viewed on the bottom of the For IFLS Libraries page.
That's it folks! Have a good week!