Please forward this digest to staff at your library who might not normally receive it. Past Weekly Digest posts are on the bottom of the For IFLS Libraries page. It's searchable!
Delivery update – hold LEPMPL items
LE Phillips Memorial Public Library will be transitioning into their new and improved library space in August! Exciting!
They will not be receiving delivery during the move.  
What this means for your library
Starting on August 2, if your library receives an Eau Claire item returned by patrons, please check-in that item and hold on to it. Do not route the item through the courier. It is anticipated that Eau Claire will resume delivery sometime in mid-August, so you will be holding Eau Claire items for a few weeks.
If you encounter issues storing these items, or have any questions, please reach out to Gail (spindler@ifls.lib.wi.us) or Katelyn (noack@ifls.lib.wi.us) directly.
Improved DPI website
Check it out! The Library Services Team website now reflects their activities and services for you, all in one place.
Aug 1 scholarship deadline!
In order to apply, you must:
Be a WLA Member
Work in a library that has less than 4 FTE OR a service population under 6,000 people
Share the knowledge you gained from the WLA conference (typically this is a small essay)
Apply if you meet these criteria! If you have any questions, please let Katelyn know. For more information and to apply, visit the WLA website: https://www.wisconsinlibraries.org/wisl-scholarship
Reminder: free stroke resources until Aug 1
Stroke is the fifth leading cause of death in the United States. For the best outcomes, people need to first recognize when a stroke might be occurring for themselves or anyone around them and then call 9-1-1 immediately when a stroke is suspected.  A stroke may be occurring with the sudden onset of Balance difficulties, Eyesight changes, Facial drooping, Arm weakness, Speech difficulties, Terrible headache.  
To enhance community awareness about the signs of a stroke (BEFAST) and the need to call 9-1-1 at the first symptom onset, the Wisconsin Coverdell Stroke Program (DHS) is working with public libraries to distribute bookmarks (in English and Spanish) and posters (in Hmong, Spanish, and English).  If your library is interested in having bookmarks and posters, please fill out this form by August 1.
Coming right up
Trustee Training Week starts on Aug 22!
These one-hour lunchtime webinars are super resources for your trustees! Encourage them to sign up and watch, integrate into your board meetings, offer prizes for watching: let's get this great info out to our library trustees. View the info on the IFLS calendar or the Trustee Training Week website.
Also on the calendar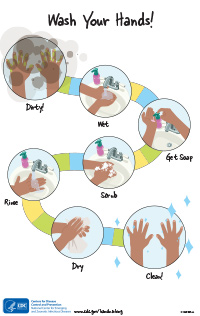 Free CDC handwashing posters