Need more help? Submit a HelpDesk ticket. We'll get right back to you!
How the IFLS Courier System Works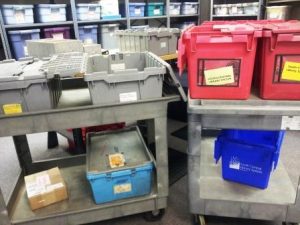 IFLS contracts with a courier (WALTCO, Inc.) to provide courier service to our area libraries.
WALTCO does all the sorting of materials being routed to other IFLS area libraries.
The WALTCO driver will drop off and pick up materials on your library's scheduled delivery days.
The IFLS office currently receives WALTCO drop-off early in the day Monday through Friday. We normally receive all items labeled for IFLS or with the pink out-of-system routing labels which were picked up the day before at the IFLS libraries. We unpack in the morning and send out-of-system materials with the 10 a.m. South Central pickup/delivery.
The South Central Delivery Service has prepared a Wisconsin Delivery Network list that you can print out (link with the button above). If you do not find a library on the list, you will need to mail the material.
IFLS is the pick-up/drop-off point for all materials going to/coming from outside the IFLS system via the South Central Delivery Service.
WALTCO picks up materials from the IFLS office Monday through Friday about 3:00 pm.
Guidelines for Sending Items through Courier
Check the South Central Delivery Network's list of libraries, which is alphabetized by library, to make sure that the library is on the courier system. Be especially careful when sending to any non-public library. For each library, a system delivery hub is listed.
Label with the appropriate routing slip. Use flags for any library with Indianhead as the system delivery hub on the courier list. Use pink routing slips for all other libraries.

How to Label for Courier

Materials sent via courier must be labeled with a flag, a pink routing label, or a WISCAT shipping label so that our courier drivers can effectively sort these materials to the right libraries.
For all libraries that have Indianhead listed as the system delivery hub you may use the courier flags.
Use the pink routing labels or WISCAT shipping labels for all libraries that do not have Indianhead as the system delivery hub.
When labeling the pink slips –TO: System Hub (formerly called Funding Agency/FA)
FOR: Library.
If you need the pink slips, please contact the IFLS Interloan office for an additional supply or use MASTER.Use only removable tape when affixing routing labels to library materials. Tape down both ends. Regular tape will damage many of these materials. Place a rubber band around the items and routing label (or group of similar size items going to the same location) to prevent the book(s) from opening and ILL request slips from falling out. Make sure that rubber bands are large and loose enough that the library material isn't damaged.

Prepare bins/bags for courier pickup.All materials can be placed in bins with a label of WALTCO Sort.  If you have enough materials going to one particular library such as Eau Claire Public Library, you can address a whole bin to a particular library (flags would not be necessary if all the materials in the bin are going to that library).  Also, if you want materials to go to a library which is on the delivery route after you, you can prepare a separate container for that library (the drivers do not do any enroute sorting).
IFLS Courier Schedule
Updated 09/18/2019
---
Altoona – Daily
---
Amery – Daily
---
Augusta – Tuesday, Wednesday, Friday
---
Baldwin – Monday, Tuesday, Thursday, Friday
---
Balsam Lake PL – Tuesday, Wednesday, Friday
---
Barron – Monday, Tuesday, Wednesday, Friday
---
Bloomer – Monday, Wednesday, Friday
---
Boyceville – Tuesday, Thursday, Friday
---
Bruce – Monday, Wednesday, Friday
---
Cadott – Monday, Wednesday, Friday
---
Cameron – Monday, Wednesday, Friday
---
Centuria – Tuesday, Thursday, Friday
---
Chetek – Monday, Wednesday, Friday
---
Chippewa Falls – Daily
---
Clear Lake – Monday, Wednesday, Friday
---
Colfax – Monday, Wednesday, Friday
---
Cornell – Wednesday, Friday
---
Cumberland – Daily
---
Deer Park – Monday, Wednesday, Friday
---
Dresser – Monday, Wednesday, Friday
---
Durand – Tuesday, Thursday
---
Eau Claire (LEPMPL) – Daily
---
Ellsworth – Daily
---
Elk Mound – Monday, Tuesday, Thursday
---
Elmwood – Monday, Wednesday, Friday
---
Fairchild – Friday
---
Fall Creek – Tuesday, Wednesday, Friday
---
Frederic – Monday, Tuesday, Thursday, Friday
---
Glenwood City – Monday, Wednesday, Friday
---
Hammond – Tuesday, Thursday, Friday
---
Hawkins – Tuesday
---
Hudson – Daily
---
Ladysmith – Daily
---
Luck – Monday, Tuesday, Thursday, Friday
---
Menomonie – Daily
---
Milltown – Tuesday, Thursday, Friday
---
New Richmond – Daily
---
Ogema – Tuesday, Wednesday, Thursday
---
Osceola – Daily
---
Park Falls – Daily
---
Pepin – Tuesday, Thursday, Friday
---
Phillips – Tuesday, Thursday, Friday
---
Plum City – Tuesday, Thursday, Friday
---
Prescott – Monday, Tuesday, Wednesday, Friday
---
Rice Lake – Daily
---
River Falls – Daily
---
Roberts – Tuesday, Thursday, Friday
---
Sand Creek – Monday, Wednesday, Friday
---
Somerset – Daily
---
Spring Valley – Monday, Tuesday, Thursday
---
St Croix Falls – Daily
---
Stanley – Monday, Wednesday, Friday
---
Turtle Lake – Monday, Tuesday, Wednesday, Friday
---
Woodville – Tuesday, Thursday, Friday